Feed My Starving Children Mobile Pack
We are proud to partner with Inver Grove Toyota in sponsoring a mobile pack event at the dealership.
We would love to have anyone who would like to volunteer, please click the link below to learn more and sign up for a shift
3rd Annual Car Show
We held our 3rd annual car show at the Hudson, WI location and it was our biggest ever! A lot of people came out and enjoyed food, great music and over 100 cars! Thank you to everyone who attended and showed their car, you made the event a success! See you next year!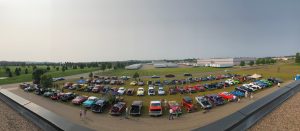 Recycled Rides Presentation Event
Recently, we repaired a donated vehicle at our Woodlane shop in Woodbury and had the honor of donating it to a local veteran in need of reliable transportation on January 17th, 2018. We identified a Marine Corps veteran with the help of the Minnesota Assistance Council for Veterans and the James Ballentine Uptown VFW Post 246.
We would like to thank the following vendors and partners for their generous donations:
State Farm Insurance, 3M, Enterprise Rent-A-Car, Twin Cities Transport & Recovery, Keystone/LKQ, PPG Industries, St. Croix Glass, Roseville Midway Ford, Auto Images & Finishing Touch Car Care.
Below are a few images from the presentation event!